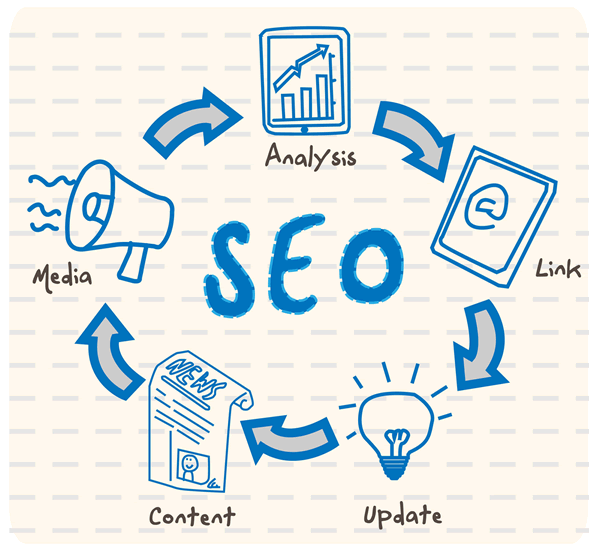 Startups are great. They are flexible, open, and always excited for new ideas. No wonder it's very natural for them to adopt online marketing. Despite this awesome nature of startups, they're also more skeptical with how and where their investment goes. Starting with a low budget can be a challenge, but should not be roadblock for doing it right the first time.
To help small businesses get into the right track when it comes to search marketing, here is an 8-point SEO action plan specifically tailored for startups:
1) Set a SEO Roadmap
Because every bit of money and every second of your time counts, it is highly important that you create a SEO roadmap first. It doesn't have to be perfect with all the details to the point of paralysis.
Just flesh out the major phases of the SEO campaign: See items 2-8 in this article to serve as your guide in identifying the SEO phases to include.

Specify the tasks/activities of each phase

Tag people who will execute and hold accountability.

Then set the deadlines.
Your SEO roadmap can be as simple as an excel spreadsheet. The most important thing next to effectiveness, is how you allocate time, staff, and other resources into this roadmap.
2) Be precise in your Keyword Research
While we can't be 100% perfect in selecting the most relevant search terms, the key here is to make sure you really know your target market, their needs, and their common search behavior. It is tempting to go for big, high-traffic terms. But it's always wise to consider first the niche and less-competitive search terms that your target audience are using to look for you. I'd say create a balance between your  long-tail keywords (3 or more terms that are usually very specific and less competitive), and the broad keywords (more generic and highly-competitive search terms).
To set a primary target, go for the specific and less-competitive one, example: "Dog Salon in San Jose, CA"
3) Complete On-page & Technical SEO
Startups usually have less number of pages than big brands. So this should come pretty manageable for your team. Make sure your pages are targeted for your identified keywords via your meta elements. Develop your content in such a way as it supports your target keyphrases – and provides real value to your readers (i.e. write content that is useful for them).
Your web-dev guy can then make sure your technical and back-end systems are search-friendly (i.e. your site and pages are crawlable by the search engines; you have fixed broken links, installed proper 301s, etc).
4) Set-up your Social Media Pages.
If you're a local business, Google Places for Business is a must!
If you're a content website (news, blog), Google Plus is very important! That will signal your ownership for every content piece that you produce. Go for the most relevant social networks for your business – Twitter, Facebook, Pinterest, Instagram, Linkedin. Try Hootsuite in managing content sharing. Most importantly, engage in your audience's discussion. Hear them out. Give feedback. Participation will gain you their trust. That's good for a starting brand.
Related Read: Social and Content Marketing for Small Businesses
5) Do Local SEO
Complete your Google Places for Business profile. This Google product is essential in putting your business on the map. It gives you additional online visibility – plus it's highly targeted to your local area. Additionally, you can submit your site to local directories
6) Be mindful of your mobile appearance
As people access websites via multi-device sources, it's imperative you take a close look at how your website appears on mobile. Local businesses get the leads, calls, sales they need because people decide more readily on mobile – when they are lead to a clear path to conversion. Responsive design and an easy path to take action, therefore is a must.
7) Blog at least once a week
I know you're pretty busy setting up operations and scaling things. That's why to make it more feasible for you to add fresh and relevant content for your site – the one post a week is a reasonable requirement. This can be made easier if you come up with a 30-day weekly calendar to plot those 4 posts in any given month. Schedule when you will share your blog posts on specific time/s of the week. Say you blog every Monday – then you share your content daily every 11 am, 2 pm, and 5 pm. Vary your messages and try to engage into the conversation with your followers.
8) Set your metrics right in Google Analytics
Measure, measure, measure. Know the goal of your website and track how this is being achieved through your online marketing efforts. Google Analytics has a pretty swell dashboard to help you get started. Don't just obsess on page views. Make sure you know your most important KPIs.
Remember that just like any great thing in life, it will take time. Especially when you're starting out, the results don't easily come over night. You need to wait, and you have to be consistent. Whether you're a big brand or a startup, SEO results does take time.
Related Read: 6 Search Marketing Basics for the Small Business
If you're a startup looking to invest in SEO early on so you can get ahead of the game, let's discuss your needs and setup a workable SEO road map for you. Contact me below.
Romela de Leon-Ortega is an experienced Search Strategist for small-scale businesses. She is a busy work-at-home professional, and a full-time mom. Contact her below for a FREE website consultation.
Image credit: searchengineland.com
[bws_contact_form]
The following two tabs change content below.
SEO Consultant & MomPreneur
With over 10+ years of experience as a SEO and Search Marketing Consultant, I empower brands to develop long-term growth through search engine optimization. I also assist local businesses in launching Adwords PPC campaigns. Huge bias for MomPreneurs, as I am one myself 🙂
Latest posts by Romela de Leon-Ortega (see all)