Is your client nagging you because of stagnant website traffic? All SEOs, both beginners and seasoned ones have experienced at one point in their career this nasty, bugging need to increase website traffic after a stagnant trend. The lean period can happen any time depending on your client's market season. It can also be due to a very successful SEO campaign, and then suddenly the spike in traffic becomes less frequent. Whatever the case may be, there are effective SEO hacks you can execute to beat stagnant website traffic.
Here's a quick summary of how to increase your website's traffic:
1) Optimize for top queries on low-performing landing pages
2) Optimize for mobile-friendliness
3) Write direct answers on the upper-fold of a page
4) Build your FAQ Page
5) Create an "Offer Page"
6) Target a potential locale or geo
7) Create an expert roundup post
1) Optimize for Top Queries on Low-Performing Landing Pages
The goal of this strategy is to get your poorly-visited pages ranking for the actual search terms that people use to find them. Sometimes, the best keywords cannot be pinpointed in one keyword research session. I think the best way to know your most relevant keywords is to look at what queries people are using to search for you. In order to do this, we need to utilize the Google Search Console (formerly Google Webmaster Tools). Here's how:
Login to your

Google Search Console

and click on your website property

Navigate to Search Traffic > Search Analytics

Select Pages.

Check: Clicks, Impressions, CTR

Select Dates > Set Date Range > Last 90 Days
Now, go through the list of your landing pages, and pick the ones with low CTRs yet with a considerable count of impression.
In this case, I pick: /services/content-marketing-consultant/
Now click on that page > Select Queries to see data:
You can sort the queries based on top impressions. From there you can identify the search terms that people use too look for your service or product. It could be that you are not ranking for these search terms; or you may be ranking for them but your meta description is not so enticing and click-worthy. In any case, just re-optimize!!
You call this method as CTR Optimization. A lot of SEO experts have written about this, but I bet only a few have actually taken this as an assignment. Some have also tried this on their top performing landing pages, instead of the low-traffic ones. The only risk is that you could be fixing something that isn't broken. So why change it?
2) Optimize for Mobile-Friendliness
More than 50% of my client's website traffic comes from mobile users. Ever since Google has coined the term micro-moments, and has launched Mobilegeddon – their algorithm that favors mobile-friendly sites, websites that do not fit the small screen have become outdated. To counter this, start by analyzing if your mobile version could be a factor in your stagnant website traffic. Use Google's Mobile-Friendly Test tool – https://www.google.com/webmasters/tools/mobile-friendly/
Once you have entered the URL, click "Analyze" and see the recommended fixes.
Similarly, you can make use of Google's PageSpeed Insights tool:
https://developers.google.com/speed/pagespeed/insights/
It shows specific recommendations and how to go about it: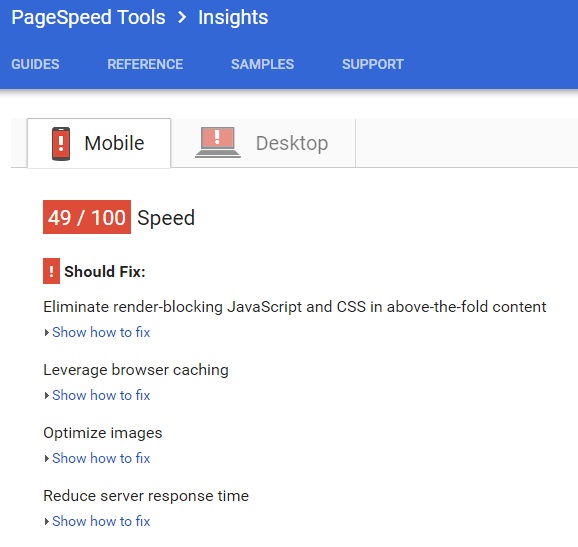 3) Write direct answers on the upper-fold of a page
Long-form content are great for SEO. However, TLDR is so prevalent that only a handful of web visitors will actually read your content until the end. People want instant answers – Google, too!
Ever since the hummingbird update, Google has refined its search results for long-form, conversational search queries like "what do you mean by domain authority?" It tends to return the most precise answer at a faster rate. See example below:

Therefore, if you can provide quick answers to a direct question right from the first page of your page (upper-fold), you have the winning chance to get more clicks from search and increase website traffic.
4) Build your FAQ Page
Banking on the same strategy in SEO Hack #3, creating and optimizing your FAQ page allows your target users to check out answers to their queries in an instant. Other benefits include:
Having an additional page to use target keywords. It becomes a useful landing page for relevant search terms.

A well-built FAQ page can be one of the sitelinks in your search listing. Example below:
5) Create an "Offer Page"
This is not just another landing page for your site. Aside from using it to target keywords, an offer page is geared towards conversion. In order to boost crawling for this new page, make sure it's linked from your homepage, and placed prominently across all relevant pages.
A well-built offer page is:
Informative – answers user's question

Relevant – uses related keywords and is on-topic

Conversion-focused – uses the right call-to-action elements and supporting text
If an offer page is well-built and serves its purpose, it's shared more often to recommended parties, thus driving qualified traffic to your business.
6) Target a potential locale
I worked with a food-delivery business that serves the Metro Manila population. However, we noticed from their Analytics data, that people coming from other parts of the country are beginning to take interest on their site. This has prompted the VP of Marketing to suggest they start expanding to those cities outside of Metro Manila. To support this business decision, we've made new sections/landing pages that cater to those new target cities or delivery areas.
Naturally, this move has lead to increased website traffic – and sales.
Here's where you can find this data:
In Google Analytics go to Audience > Geo > Location

You can see data on users per Country. Click on a relevant country-location to view potential city markets:
Same principle applies if you would like to see which countries drive substantial traffic and conversions for your site. In that case, SEO country-targeting would be the apt strategy.
7) Create an expert roundup post
Although roundup posts tend to boost your traffic for a while then dwindles after some time, it has helped bring momentum back to your website. See example below after we published an expert roundup post in September 16.

By publishing an informative, rich, and easy-to-read expert roundup post, you get to place your brand on the industry map! With the right outreach strategy, promoting a well-written roundup post brings you closer to industry influencers and their followers. In my experience, it has also generated a lot of requests for guest posting and social promotions ever since I published a roundup post for a client.
Bringing a stagnant website traffic back to life is a challenge. But there is hope! It happens to any site and it usually signals a growth spurt, if not a seasonal effect. If you wish to discuss more SEO hacks that are both actionable and scalable, contact me here.
The following two tabs change content below.
SEO Consultant & MomPreneur
With over 10+ years of experience as a SEO and Search Marketing Consultant, I empower brands to develop long-term growth through search engine optimization. I also assist local businesses in launching Adwords PPC campaigns. Huge bias for MomPreneurs, as I am one myself 🙂
Latest posts by Romela de Leon-Ortega (see all)